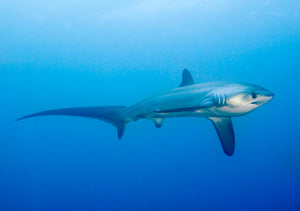 If you are Open Water certified, given that you are only certified to dive to 18 meters, unless you have lots of previous experience, you need to take additional training to dive at Monad Shoal with the thresher sharks. 

If so, at a minimum you will need to do a "Deep Adventure Dive" which can be done on the shark dive itself. This is part of the Advanced Open Water course, so will count towards the AOWC and it and will certify you to dive to 30 meters in the future, so it will be useful in your future diving. 
Price includes instructor fees, boat fees and free equipment rental.
Please note that i
f you have not dived in a while, you may also be required to take a refresher before the Deep dive, but the good news is that this also counts towards the Advanced Course as Peak Performance Buoyancy :)
 
We also advise doing the full Advanced Open Water Course if possible, it's a great deal and only takes 2 days!

Government marine park fee payable on site (good for the whole day), P400 at time of writing.
Thank you for your booking!
We look forward to seeing you soon on Malapascua 😊
This store usually defaults to show prices in the currency of the country you are in. We advise paying in the currency of your card to avoid excess currency charges. You may change the currency at the bottom of the page.

Price includes a 5% platform / credit card fee that is standard in Malapascua.
You may book and pay another way if you prefer for a 5% discount. We have banks in the Philippines, UK, EU (Belgium, France and Denmark), Singapore, Hong Kong, Australia, New Zealand, Japan and the USA.  We also accept payment via Wise.com, Revolut, Paypal, Zelle, GCash and more. Thanks!