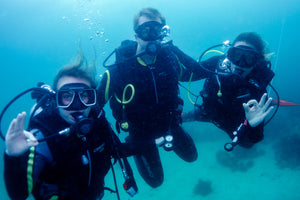 If it has been a while since you last dived you may want to do a Refresher. This will cover basic theory was well as all the main skills. It will ensure a much higher level of comfort and safety and is sure to make your remaining dives with us a much more enjoyable experience. 


Price includes instructor fees, boat fees and free equipment rental.


And if you are still Open Water, if you buy the AOW manual and certification pack, we can upgrade this to one of the 5 dives for the Advanced Open Water (AOW) course; we include all the skills that will allow us to sign you off for the Peak Performance Buoyancy Dive of AOW. You will be able to do the remaining 4 dives at any point in the future to gain your AOW. 
Malapascua is also a great place to do the full Advanced Open Water Course, it's a great deal and only takes 2 days!

Malapascua marine park fee payable on site. 

Thank you for your booking!
We look forward to seeing you soon on Malapascua 😊
This store usually defaults to show prices in the currency of the country you are in. We advise paying in the currency of your card to avoid excess currency charges. You may change the currency at the bottom of the page.

Price includes a 5% platform / credit card fee that is standard in Malapascua.
You may book and pay another way if you prefer for a 5% discount. We have banks in the Philippines, UK, EU (Belgium, France and Denmark), Singapore, Hong Kong, Australia, New Zealand, Japan and the USA.  We also accept payment via Wise.com, Revolut, Paypal, Zelle, GCash and more. Thanks!