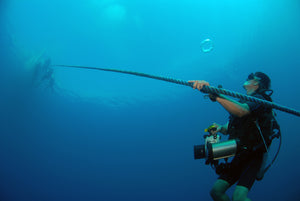 Malapascua is a great place to do your PADI Advanced Open Water Course. You can see many wonderful things and we have dive sites that are perfect for the 'themed' dives of the AOW course.  You will usually do at least two of your dives at  thresher shark site, the Night Dive has mandarin fish, seahorses and much more, and there are two excellent wrecks for your Wreck Dive.  

For your dives, you are also required by PADI to do Deep and Navigation and can choose the others. We recommend you start your course with the Peak Performance Buoyancy dive. Buoyancy is possible the most important skill you will learn in diving and good buoyancy really helps your comfort underwater. And in starting with this, you will build on what you've learned on every dive and should leave us a Buoyancy Pro!
But once here, you will discuss your schedule with your instructor, and finalise your dives together. 

The AOW course includes:
Manual  — online version, available in advance. 

5 dives, usually over 2-3 days, but you can do it in one afternoon and the following morning if time is very limited
Instructor fees
Certification fees
Free equipment rental if needed
Free computer rental if needed
10% off equipment purchase.
Free celebration Shark Bite shot in our bar!
Free Thresher Shark T-shirt, mask strap, log book or tumbler
Free Bonus!

If it has been a while since you last dived, or you just feel like you need a reminder, we will include a basic free Refresher as part of your first dive! If you would like a more complete refresher you can
do that in addition
 as a separate dive. 
Online learning in advance

We offer the online manual learning option. You complete the studying in advance which means more time for diving and enjoying your vacation! And best of all there is no extra charge :-)
You have lifetime access to the online manual, and it means you won't have to carry around a heavy manual. And of course, it is environmentally friendly! And it comes in many languages. 
We have instructors who can teach in several languages, so if you have a preference please let us know. 
Once you've paid we can send your online manual. 
Duration: 2-3 days. 
Not included in the course price: 
Expect to pay P1200 in extra fees for a 2-day course: 
Marine user government tax of P300 per day applies plus P100 for the shark dive.




Kimud Shoal - at the moment we are getting amazing shark sightings at a new site, Kimud Shoal. This is an hour away and so a fuel surcharge of +P500 applies - but it's well worth it! 
Expand your skills even more!
A very popular option is to do AOW in combination with the Nitrox Course to save time and money 😊
Find out more about the AOW course.
Please email us with any questions and date of arrival: dive@thresherdivers.com
Thank you for your booking!
We look forward to seeing you soon on Malapascua 😊 
This store usually defaults to show prices in the currency of the country you are in. We advise paying in the currency of your card to avoid excess currency charges. You may change the currency at the bottom of the page.

Price includes a 5% platform / credit card fee that is standard in Malapascua.
You may book and pay another way if you prefer for a 5% discount. We have banks in the Philippines, UK, EU (Belgium, France and Denmark), Singapore, Hong Kong, Australia, New Zealand, Japan and the USA.  We also accept payment via Wise.com, Revolut, Paypal, Zelle, GCash and more. Thanks!