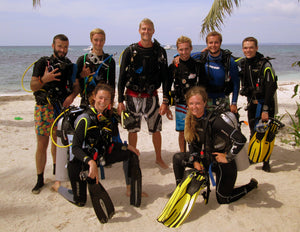 Thresher Shark Divers pioneered Divemaster Programs in the Philippines and has probably the most active internship program in the country. 
Available to start from any level from Open Water on up. 
Choosing a place to do your dive internship is a huge decision, with a lot of options, and the choices can be overwhelming. 
So contact us for more details or see our dedicated diving internship website. We will do our best to guide you through the maze of information and help you make an informed decision. 
Please note: this includes a 5% platform / credit card fee that is standard in Malapascua. You may book and pay another way if you prefer for a 5% discount. We have banks in the Philippines, UK, EU (Belgium and France), Singapore, Hong Kong, Australia, New Zealand and the USA.  We also accept payment via Wise.com, Revolut, Paypal, Zelle, GCash and more. Thanks!