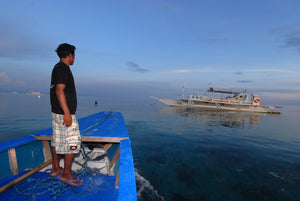 Private transfer from and to Cebu-Mactan airport or anywhere in Cebu City.
Includes private car or van transfer from Cebu to May port and private boat transfer from Maya port to Malapascua.  
Please choose the option suitable for your group size. 
Time restrictions apply:
If your flight arrives after 12pm you will need to stay on the mainland the first night as Maya port closes. For Cebu pickups, latest pickup is 12pm. 
For departure, we can get you to the airport or Cebu by about 12pm. 
Must be booked with a dive package. 
Please book a minimum of 72 hours in advance. If your dates are closer, please contact us directly as soon as possible and we will do our best to arrange it. 
When you checkout, please include your date of arrival and pickup details. Or email dive@thresherdivers.com  Please include either
Flight time and number 
Cebu hotel and time
Pier in Cebu and ferry arrival time
Pickup or dropoff is also available from all other Cebu locations including Moalboal and Oslob. We can can also work with you to coordinate your transfer to other islands. 
This store usually defaults to show prices in the currency of the country you are in. We advise paying in the currency of your card to avoid excess currency charges. You may change the currency at the bottom of the page.

Price includes a 5% platform / credit card fee that is standard in Malapascua.
You may book and pay another way if you prefer for a 5% discount. We have banks in the Philippines, UK, EU (Belgium, France and Denmark), Singapore, Hong Kong, Australia, New Zealand, Japan and the USA.  We also accept payment via Wise.com, Revolut, Paypal, Zelle, GCash and more. Thanks!