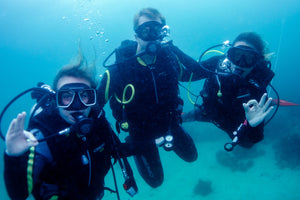 This dive is suitable for any non-diver -- no experience or swimming skills are required.  It takes about three hours and includes some basic theory, a few in-water skills and a full dive with your Instructor.  Cost includes tuition, boat fees, equipment, a PADI certificate. You will also be registered with PADI.


And you can also apply the cost and dive towards your full Open Water course with us should you wish to carry on. You may do the shark dive once certified, though not on your DSD. 

If you wish to do a follow-up dive that will be less expensive, only PHP 3,200.  


Price excludes the Malapascua government marine park fee, payable on site.
Thank you for your booking!
We look forward to seeing you soon on Malapascua 😊
This store usually defaults to show prices in the currency of the country you are in. We advise paying in the currency of your card to avoid excess currency charges. You may change the currency at the bottom of the page.

Price includes a 5% platform / credit card fee that is standard in Malapascua.
You may book and pay another way if you prefer for a 5% discount. We have banks in the Philippines, UK, EU (Belgium, France and Denmark), Singapore, Hong Kong, Australia, New Zealand, Japan and the USA.  We also accept payment via Wise.com, Revolut, Paypal, Zelle, GCash and more. Thanks!