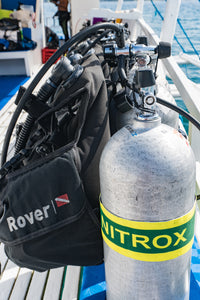 Add-on, cost for 10 nitrox fills. 
Must be Nitrox certified, or do your Enriched Air Nitrox certification at TSD!
Please note: this includes a 5% platform / credit card fee that is standard in Malapascua. You may book and pay another way if you prefer for a 5% discount. We have banks in the Philippines, UK, EU (Belgium and France), Singapore, Hong Kong, Australia, New Zealand and the USA.  We also accept payment via Wise.com, Revolut, Paypal, Zelle, GCash and more. Thanks!